BigBoyToys

Pisces

HDF Supporter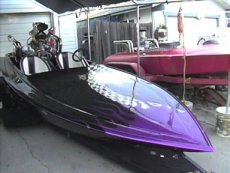 Chillin' in the Pacific Northwest







Spokane, WA
Posts: 5,940
APPD 0.86
Post Rank: 12

| | | | |
| --- | --- | --- | --- |
| | Posted: June 01 2004,10:29 pm | Post # 152 | |
---
Quote (BigBoyToys @ June 01 2004,6:26 am)
Quote (GoFastRacer @ June 01 2004,6:22 am)
Yeah it would be nice to get the $$$$ but I think getting fixed would be better!..


Yep...That's exactly how I feel.  Money is secondary.  My main concern is fixing what's wrong so I can live and enjoy life like I used to be able to.  It still amazes me how something like this can completely turn a World upside down on ya.  I've had moderate back injuries before, but was NEVER limited in the way that I am now and the others healed relatively quick.  This time it's different.  As Fred Sanford once said, "This is the Big one Elizabeth"



[quote=GoFastRacer] Yep it can turn your life around!

And you never think about that until it happens, makes you think you need to take care of the bod a little bit better huh!..

[/QUOTE]

Yep.  But I'll deal with it and get $hit straightened out soon I hope.  I have had these types of injuries before, but only 1 disc at a time and it always cleared up completely within 6-12 months.  But I was younger then, and my body was different.  And....This time it's 3 discs at once and it's a type of pain I've NEVER felt in my life.  I have been doing what I can to stay in shape, but every trip out to the lake sets me back a few days.  Just from this past SUndays mild rides in the Jet Boat, I have not been able to function pretty much until tonight.  It's finally starting to feel better.  so we are looking at 2-3 days of basically on the couch or in bed after every 1 day on the water.  That sucks.....I can't get anything done around here on the boat

  The V-Drive was worse.  A 15 minute spurt with using the pedals would put me down for a week.   That's why we are selling/have sold (?) the V-drive.  If/When things get better, we'll buy another one.  I'm sure things will get better, it's just a matter of time.

And the $$ thing, boy, you never realize just how much $$ you DON"T have until something like this happens.  Sure I still get a check every 2 weeks, but that single 2 week check is about 1/2 of what I made in 1 week while I was working.  There has been alot of adjustments made around here on that end.  Savings account is gone, house refi $$ is now gone, and our total monthly income from all sources leaves us $55.00 short per month on paying for everything.  We're making it, because I've been selling stuff, and we do have a backup plan if it ever gets to that bad of a situation.  But I think we'll be able to hold out until things work out again.......

Are you hearing me Arnold Schwarznegger?????Your Workmans Comp reforms that you signed that was supposed to "Help" the injured worker (And incidentally is retroactive so I am included in the reforms) have actually stunk it up way worse for the injured worker.  Now I can't even see my own doctor, or go get certain treatment, and the limits of settlements will have a VERY bad effect on injured workers.  Why didn't they just go out after the fraudulent claims and throw those folks in jail, while at the same time increasing benefits for truely injured workers?  Ahhh...uh...I'm rambleing now.  Time for bed (and more pills that they will take away from me soon).  Until tomorrow....



Edited by BigBoyToys on June 01 2004,10:32 pm
---