BigBoyToys

Pisces

HDF Supporter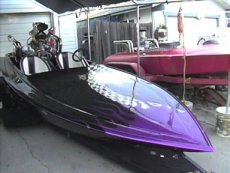 Chillin' in the Pacific Northwest







Spokane, WA
Posts: 5,940
APPD 0.87
Post Rank: 12

| | | | |
| --- | --- | --- | --- |
| | Posted: June 08 2004,9:05 pm | Post # 191 | |
---
Quote (GoFastRacer @ June 08 2004,7:33 pm)
Quote (BigBoyToys @ June 08 2004,5:28 pm)
Ok, here's the deal.  Went up to the neighbor today to hand him the cash.  He says, "You know, me and the Mrs were talking about it last night and I don't think we want to sell you this boat.  It's a piece of shit and something is wrong with it.  It won't even get up on plane with 4 people in the boat.  I'd rather sell it to someone I don't know".  
Well, I thanked him for his honesty and told him you're right, I don't want to buy that boat.  I wasn't so sure I wanted it in the first place so that just made up my mind.
Luckily, we didn't buy another boat yet.  Another bill suddenly came up today....Seems that when we refinanced our house in March, the Title/Escrow folks neglected to pay our insurance.  It was gonna be terminated tomorrow!  Well, we paid it today....But it wasn't cheap and I let everyone involved know just how pissed off I was (and still am).


Don't ya just love them surprises!.


So I guess you'll just fix up the cruiser huh!

Seems like a good way to start of the day tomorrow!..



Yes, I'll start fixing up the "Other" B Boat

Not tomorrow though. This week is the kids last week of school and I'm running all over town at different times of the day picking up kids. Some get out early, some get out late, some get out in the middle somewhere, etc


But NEXT week, I start on the Daycruiser. First thing on the agenda is pull that stinkin' 460 Ford out of it! Then, it's time for a BBC and a new interior and a trailer restore. We're gonna save the paint job for next year since we'd like to try and get the boat on the water this year. I think I can do it, but we'll have to wait and see how things go with the old you know what


---